Bernie Sanders lambasts 'absolute failure' of Democratic party's strategy
Vermont senator hails the successes of the progressive agenda but says establishment Democrats are standing in the way of further gains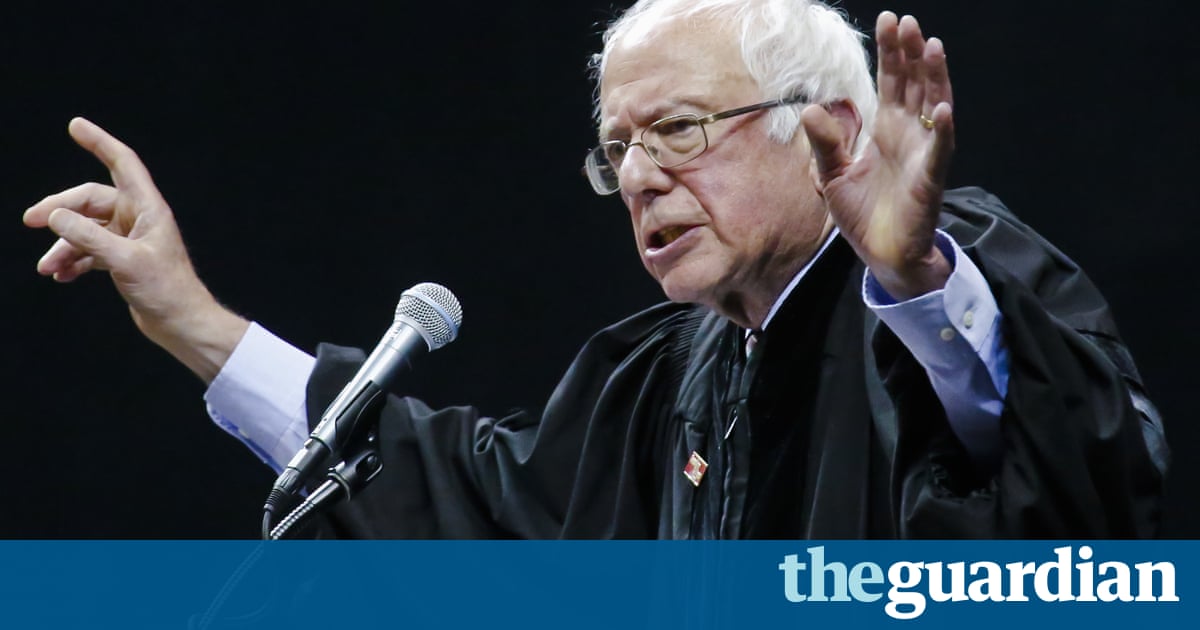 Bernie Sanders has criticised the Democratic partys current direction as an absolute failure in a speech at the Peoples Summit in Chicago.
Speaking to a crowd of 4,000 activists, Sanders hailed the enormous progress in advancing the progressive agenda, saying the increasing House and Senate support for a $15 minimum wage and the opposition to the Trans-Pacific partnership showed the success of the movement.
But the Vermont senator said that establishment Democrats were standing in the way of further progress.
The current model and the current strategy of the Democratic party is an absolute failure, Sanders said.
The Democratic party needs fundamental change. What it needs is to open up its doors to working people, and young people, and older people who are prepared to fight for social and economic justice.
The Democratic party must understand what side it is on. And that cannot be the side of Wall Street, or the fossil fuel industry, or the drug companies.
Sanderss speech was rapturously received at the Peoples Summit, a gathering of some of the most influential progressive activists and organizations in the country.
There had been an urgency to the event on Friday and Saturday around building on the momentum of Sanderss presidential campaign, with a focus on encouraging people from different backgrounds to run for office around the country.
Against that backdrop, Sanderss criticism of the Democratic party as out-of-touch and elitist appeared to ring true for activists at the summit, including those who are planning to run for office for the first time in the coming months.
Brandy Brooks, who is running in the Democratic primary for the Montgomery county council in Maryland, told the Guardian that until recently she didnt think politics was for someone like me.
I am a short, black, slightly overweight-ish woman, Brooks said, in a rather harsh self-assessment.
Im not a person whos been in law, not a person whos ever run for office, Im not hooked up with party infrastructure.
Brooks is running on a progressive agenda that includes providing better housing for those in need, improving public transport and increasing the wage. She said her run for office was inspired, in part, as a response to Trumps victory, but that she also felt an obligation to show other people of color what was possible and in doing so create the kind of diversity Sanders addressed in his speech.
Im running because communities around the county have been told to think of themselves as not enough. As not worth anything. I am running first and foremost to counter that, Brooks said.
One purpose of the summit, which is in its second year, is to provide training to people like Brooks who want to run for office. A session called down ballot revolutionaries featured Khalid Kamau, a black lives matter activist who was elected to city council in South Fulton, Georgia, in April.
Kamau, who Sanders name-checked in his speech, was backed by Our Revolution and People for Bernie two of the co-hosts of the Peoples Summit and said that was crucial to his success.
If you can get backing from groups, revolutionaries from around the world will donate money and make phone calls, Kamau said.
Other organizations are providing political hopefuls with more hands-on support. Peoples Action, an activist group with a presence in more than 35 states, offers training on how to run for office. Laurel Wales, deputy director of movement politics at Peoples Action, said the number of people wanting to run had increased dramatically since Donald Trump became president.
After the election of Trump I went to Pennsylvania to do a training, she said. We were originally going to set the training cap at 30 and we had over 85 people show up.
While a desire to negate Trumps policies has been a big motivator, Wales said the president had inspired people in other ways.
With Trump, its like: If he could run and win, then I can too.
Martha Lugo is among the beneficiaries of that Peoples Action training. Lugo, who is running as a Democrat for city council in Aurora, Colorado, said it took a while to wake up and look up in terms of becoming involved in politics.
She said she was inspired to run, in part, by the white-dominated city council in Aurora a city where 28.9% of the population are hispanic and 15.7% African American.
You look at folks and think why isnt there anybody on this city council who looks like me? Who looks latino, who looks African American? she said.
Read more: https://www.theguardian.com/us-news/2017/jun/11/bernie-sanders-lambasts-absolute-failure-of-democratic-partys-strategy